Press Release - CPR AM launches 'Future Cities', expanding its thematic equities range of funds
Thursday 03 October 2019
Communiqués
CPR AM launches 'Future Cities', expanding its thematic equities range of funds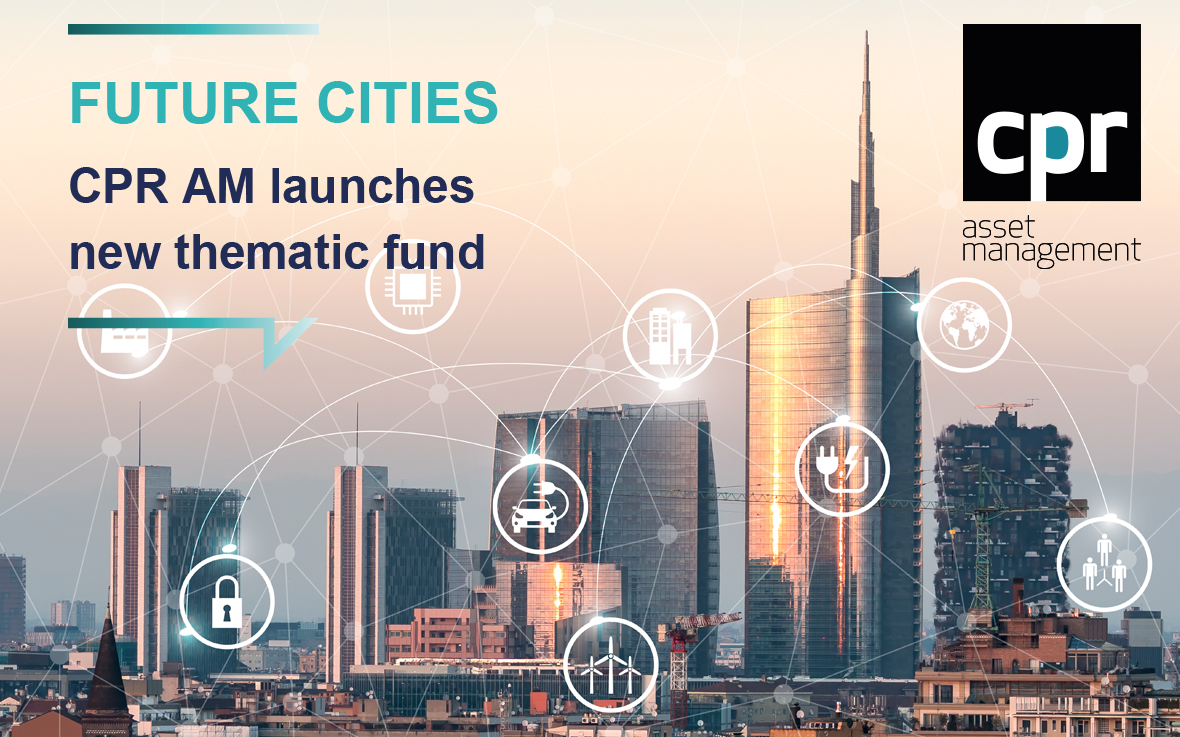 New thematic fund will give investors exposure to the powerful theme of sustainable urbanisation, across sectors
Future cities is a global equity fund that invests in companies exposed to the theme of urbanisation, while contributing to the sustainable development of cities
A broad definition of the urbanisation theme built around five pillars: construction, mobility, connectivity, resources and services
Responsible investing: the fund will exclude companies that score poorly on ESG criteria
Paris and London, 3 October 2019 – CPR Asset Management, the thematic centre of expertise of Amundi Group, has launched a new fund dedicated to the theme of sustainable urbanisation, further expanding its €9bn actively managed thematic equities range.
Following the launch of CPR Invest – Climate Action earlier this year, CPR Asset Management today announces the launch of CPR Invest – Future Cities ("the Fund"), an actively managed, non-benchmarked global equity fund that will invest across the urbanisation ecosystem. The Fund will be managed by Arnaud du Plessis and Alexandre Blein, both thematic equity portfolio managers with a combined 26 years of experience.
Urbanisation as a powerful, durable and accelerating trend
Urbanisation is an accelerating trend, particularly in emerging countries. This trend comes with challenges, such as: managing a surging population influx, meeting that growing population's needs and improving its quality of life, and lastly, mitigating cities' environmental impact. This is why sustainable urbanisation has been identified as a Sustainable Development Goal (SDG) by the United Nations. Cities are able to reinvent themselves because they are economically powerful, and because they are becoming increasingly 'smart'.
For savers, this opens up a whole range of investment opportunities linked to infrastructure renovation and construction, new technologies designed to manage cities more efficiently and sustainably, new services aiming to make life easier for city dwellers, and so many others to support today and tomorrow's changing urban ecosystem.
A five pillar approach
The investment universe is defined to cover the physical and intangible elements of the city as well as everything that this ecosystem needs to function. This includes five pillars:
Construction: companies involved in the expansion and renovation of residential, professional and infrastructure buildings, as well as in the emergence of new ways of occupying urban space. This includes companies in the following sub-sectors: metals and building materials, construction and engineering, and electrical machinery and equipment.
Mobility: companies involved in the construction and operation of urban transport modes, as well as in the emergence of new modes of transport. This includes transport equipment manufacturers, transport infrastructure, electric vehicles, on-demand transport and parking.
Connectivity: companies involved in new technologies used to improve the functioning and efficiency of cities, such as telecommunications, electronic equipment and computer services.
Resources: companies involved in the provision and management of resources for the uninterrupted operation of cities. This includes power generation, transmission and distribution, renewable energy, water management and supply, and waste treatment.
Services: companies involved in the daily life of the city dweller, in particular those that make it more practical and comfortable. This includes hotels, user information, food delivery, security & alarms, and real estate.
Responsible investing
To select companies that promote the sustainable development of cities, CPR AM will apply a double exclusion filter based on ESG criteria. We will exclude both companies considered incompatible with harmonious urban development and those that are the subject of controversy or involved in public scandals, increasing their exposure to reputational risk.
In addition to these two exclusion filters, we will work on identifying impact data to favour companies that demonstrate a positive impact on the urban ecosystem, such as companies that generate energy savings, improve access to water and manage waste treatment.
Vafa Ahmadi, Head of Global Thematic Equities, commented: "Together with the team we have spent a lot of time developing a comprehensive approach to investing in sustainable urbanisation. Managing today's cities and supporting larger, smarter and greener cities of tomorrow are pressing challenges that policymakers and private investors need to address as a priority. We are delighted to offer savers a solution that gives them access to the growth of companies that support this transition in a sustainable way."
Contact us
Need more information?
Need more details on how this offering can be subscribed?
Feel free to ask us questions.